Hex
[M:40:1020:][D3v:http://rpgmenagerie.com/index.cgi?action=display&board=cs&thread=483&page=1#17914]
member is offline




[b]"As the iron leaves fall, our attack will spring..."[/b]





Joined: Jul 2012
Gender: Male


Posts: 187

Re: Hex's Welcome
« Reply #15 on Jul 12, 2012, 12:20pm »

---

As Hex waited for Loreburn to get the torch from the guards of Wistvale, Hex stared deeper and deeper into the forest. The forest was dark... Even darker than it had been before. It was almost like it was begging for Hex to enter it. Without any form of light, the forest would be... A very dangerous place to be. The fact that Hex couldn't even bear staring directly into it.

When he loved in the Grove, he could remember there always being light, even at night. The moon would shine from the canopy of the trees, dryads, and ents, and the stars seemed to pierce even the darkest of nights... However, this forest was not like the one he came from. This one was filled with the chill of night, cold and frozen. It felt like something was drawing all the life from the area into the forest, begging for more warmth when it truly means to consume you... It scares Hex.

As Hex thought those evil and dark thoughts, Loreburn back back with a torch. There apaprently was a cave in the forest somewhere where the necrotics are...

"Mmkay, may I hold the torch?"

Hex held his hand out as if to take the torch, feeling saver next to the warm flames.
Loreburn
[M:0:0:][D3v:http://rpgmenagerie.com/index.cgi?action=display&board=cs&thread=436&page=1#16520]
member is offline




[b]Luminence-Challenged Magic-User[/b]





Joined: Jun 2012
Gender: Male


Posts: 103

Re: Hex's Welcome
« Reply #16 on Jul 13, 2012, 10:12pm »

---

Absolutely.

He handed Hex the torch, and fought his way through the foggy underbrush.

We're not even remotely prepared for this. Excellent! This is an astounding control experiment!

Inthe distance, the forest became rockier, and the path they were following became more solid. Dark splotches of red shone under the torch, old marks of blood. Loreburn walked a little more cautiously, watching the forest around them but heading down the worn path.

Haven't the foggiest idea what we'll be facing, so keep your eyes peeled.

---

Degree in Post-Mortem Communication, an Offical Hemomancy Conditional Practice Certificate, License to Employ Pyrokenetics, Advanced Necromantic Exception Certification, Doctorate in Soul Magics and Related Sciences, Approved Demonic Event Technician from the Board of Infernal Affairs, Practicing Curse Removal Specialist.

And your qualifications?
Grayell
Administrator


[M:945:3807:][D3v:http://rpgmenagerie.com/index.cgi?action=display&board=cs&thread=372&page=1#226]
member is offline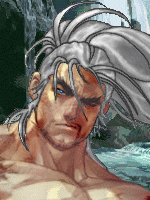 [b]"I've got your white wolf right here..."[/b][0:Baying at the moon...][1:Running with the pack...]





Joined: Aug 2011
Gender: Male


Posts: 5,531

Re: Hex's Welcome
« Reply #17 on Jul 15, 2012, 12:46am »

---

Hex, going to reward you 5 acclaim and 25 gold for your troubles as Lore is longer about.