Post by Kiko on Sept 22, 2011 3:36:43 GMT -5
Name:
Yukiko Inoue (Nickname Kiko)
Race:
Human
Age:
31
Physical Description:
As a mercenary Kiko made it to Wistvale's gates before needing a job. She is a pale wraith of a female standing barely five feet tall with long dark hair and bright amber eyes. Kiko is also solemn and mostly solitary currently. She speaks rarely to those she does not know and trusts few. She has been trained from childhood in martial arts style that merges the swift attack of a wolf with the poise of a dancer. Her personal preference has been to use both a katana and tanto in battle.
The past seven years have been, at once, both happy and extremely hectic for Kiko. The bond between her and Grayell is stronger than ever. Adversity has a tendency to create that, and they have certainly seen their fair share over the years. Nevertheless, beyond taking the time to study beneath the elders of the Garou, Kiko remains at his side. She is the first of Grayell's Vanguard and often acts as a envoy or advocate for those seeking a new path. While she continues to be a person that rarely indulges in idle chatter she is no longer solemn or solitary due to his care.
Acclaim:
755
Gold:
2,179
Talents:
Agility: 5
Arts: 1
Brawn: 3
Elemental Magic - Air:
Elemental Magic - Blood:
Elemental Magic - Darkness:
Elemental Magic - Earth:
Elemental Magic - Fire:
Elemental Magic - Light:
Elemental Magic - Water:
Endurance: 5
Healing Magic:
Ingenuity:
Kinship: 5
Liaison:
Lore:
Martial Prowess: 5
Medicine:
Physical Appeal: 4
Polearm Weaponry:
Single Handed Melee Weaponry: 5
Single Handed Ranged Weaponry: 4
Survival: 5
Two Handed Melee Weaponry:
Two Handed Ranged Weaponry:
Thieving:

Equipped Items:


Miyamoto
- A Far Eastern weapon. This blade is the epitome of a sword maker's artistic desires as well as his craftsmanship.
- One-handed melee.
Omnipresence
- Quiescent until drawn this weapon will influence the hearts and minds of the wielder's enemies.
- Effects based on user's Kinship vs target's Kinship.
Level 1 - Lesser enemies will be slow to attack. (for one round).
Level 3 - Lesser enemies will flee (for one round).
Level 5 - Lesser enemies will be paralyzed with fright (for one round).
- Unique item.
-$1000.



Hoshi – The Blade of Stars
- Forged of metal taken from a fallen meteor this weapon emits a streaking tail of fire when used in battle.
- Dagger.
Quickdraw
- This blade can be drawn with increased speed.
Firetail
- This blade can intercept an enemy's weapon – the tail of fire making Hoshi the length of a wakizashi.
- Unique item.



Packmother Hood
- Specifically crafted for the Vanguard member, Kiko. It symbolizes her rank and achievements within the Vanguard and is a sign of gratitude from it's members. This hood is purpose built to not only enforce the admiration and utmost respect Grayell has for Kiko, but also compliments her ability to always shadow him, being a silent protector that forever keeps him safe.
- Helm.
- This item is entirely unique.
Presence.
- Three times per adventure, Kiko can consciously amplify her Kinship talent.
- This pushes her Kinship past the norm and asserts her presence and dominance on those of lesser mental fortitude than her own.
- This can lead to compliance, intimidation or sheer terror.
Elusion
- Three times per adventure, Kiko can consciously mute her Kinship talent.
- This can allow her to remove herself from the awareness of others who are not actively focusing on her.
- This can obviously compliment any stealth application.
Vanguard
- Users wearing a Vanguard hood can communicate mentally within the same thread.


Body:
Short black kimono with black embroidered lotus blossoms and wolves over top of...

[/i]
Wyrmvine

- Wyrmvine is a legendary armor, once having belonged to the famed Ranger Ashintar. His many adventures led to a great many treasures but this was his most prized possession.
- Medium Armour.
Nimble
- The user may travel though wilderness areas with increased speed.
Camouflage
- Wyrmvine will automatically adopt camouflage to suit it's surroundings.
Packrat
- The user can carry two more reserve weapons.
Duelist
- The user may dual wield two single-handed blades with moderately increased skill.
Precision
- The user gains minor increased accuracy with ranged weaponry.
- Unique item.


Fryst
- The Fryst knives are a rarity away from the icy climes that are their place of creation. They are highly sought after in other reaches of the world of course, making them quite expensive.
- Throwing knife, one only.
Waterblade
- Fryst deals water damage.
- Fryst leaves a trail of snowflakes when thrown.
- The snow cannot be manipulated.
Freeze
- Three times per adventure, the user can freeze a target upon hitting them center mass.
- That target will be frozen in place for two rounds only.
- $450.


Bloodletter
- This dagger excels at opening letters. Oh and arteries.
- Throwing knife, set.
Bloodletter
- Any target hit by this weapon will bleed significantly. This will not pose an immediate threat, but such a target will leave a very visible trail in the event they flee.
- This excess bleeding can also lead to easier blood magic manipulation.

[/I][/ul]

Galena's Touch

- The deity Galena's benevolence is said to be felt through these delicate gloves.
- Gloves.
Heal
- Three times per day, the user may heal themselves or an ally.
- To do so, they must touch the target.
- This will heal a moderate amount of damage in one round.
Rogue Boots

Rogue Boots
- Simple boots designed for carrying an extra blade or two.
- Boots, no defensive value.
Packrat
- The user can carry two extra throwing knives or shuriken - one in each boot.

[/I]

Vendetta
- Vendetta is the name given to these paired daggers, and many times has their namesake been settled with their use.
- One-handed melee. (Pair)
- These weapons are dual wielded or all effects are inactive.
Vorpal Throw
- The Vendetta blades can be thrown as any normal throwing knife.
- The user may simply summon the blades back to them upon the next round.
Attack Buff
- One per day, the user may cross the blades to buff their attack power.
- Any successful physical attacks while wielding Vendetta will then deal moderate bonus damage.
- This effect lasts three full rounds.
- Unique item, one pair only.
- $600.
Cape of the Fae Elves

- The pride of the first Elves whom lived in harmony with nature and the wildlife around them.
- Additional Item.
Speech
- The user may now speak fluently to intelligent animals.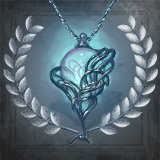 The Caress of Orlune

- A beautiful charm that glows with a faint light, it is prized not only for it's beauty but it's rarity.
- Accessory.
Glow
- This amulet upon command will emit an aura of light, covering a 20 foot radius. This light does no damage.
[/i]
[/ul]
On Person Capacity: 5
Items Carried: 4


Warrior's Toolkit.
- Necessary for upkeep of equipment.
- A whetstone
- Weapon oil.
- A soft, cotton cloth.
- A rasp.
- A small file.
- 10 feet of leather thong.
- Brass wire.
- A small hammer.

Survivor's Oilskin Sack.
- A collection of tools hard to fabricate in the wild.
- A small camp knife.
- A waterproof fire kit containing flint, firesteel and packed cotton soaked in pitch.
- A torch.
- A needle.
- 100 feet of tarred bank line.
- A small steel canteen. (32 oz)
[/i]
[/li][li]
Bomb Pouch.

- Lvl 3 Earth bombs.
- Lvl 3 Earth bombs.
- Lvl 3 Earth bombs.
[/li][li]
Empty Pouch.

- Leather map case about 12 inches long and 2 inches in diameter; filled with parchment and charcoal.
- A dragonbone comb. A rarity, it was carved by Grayell during an adventure that involved the death of a silver dragon.
-
-
-

[/li][/ul]
Items Stored:


Dungeon Crawler's Hipkit.
- Items useful when underground.
- A flint.
- 3 torches, oiled. Duration 1 hour each.
- A map book.
- A handful of charcoal.
- A water flask.
- A handful of chalk.
- A small pick.

Katana & Tanto (A mention about the katana /tanto combo which is passed from father to son or has been traditionally. In this instance, as her brother was destined to became a beast, and killed by her hand it now belongs to her. The tsuba is a molded lotus blossom with a howling wolf etched on the tsuka and the edge is extremely sharp, though not magically so.)

A set of leather bracers stitched with the wolf & lotus family banner.
[/size][/i]
[/li][li]
Overnight shelter.

- Because sleeping on the ground is terrible.
- A square sheet of oiled canvas, 12 feet across.
- 4 iron stakes.
- 100 feet of cordage.
[/i]
[/li][li]
Sleeping system.

- For those cold nights.
- A woolen blanket.
- A blanket pin.
- A thick pair of socks.
- This pouch can be stuffed to make a suitable pillow.
[/i]
[/li][li]
Vanguard Hood.

- Made to meet very specific demands of the Vanguard organization and available only to their members. An 'under the table' item.
- Vanguard members only.
- Helm.
- This hood's enchantment completely conceals the user's face when up.
- The user may mentally communicate with any other wearer of this same item, in the same adventure.
- $150.
[/li][li]
The Windswept Grass

- An eastern sword, it's balance is impeccable.
- One or two-handed melee. (Large)
Quickdraw
- When striking from a drawn position, this blade is very fast and hard to detect.
Enhanced Edge
- Windswept grass has incredible cutting power and will sustain less damage when used against hard objects.
- $275.

[/I]
[/li][li]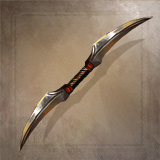 Hushed Kiss

- Whisper silent and doubly dangerous, these throwing knives are the perfect assassin's tool.
- Throwing knife, set.
Silenced
- This weapon makes no noise in flight.
Piercing
- This weapon can pierce lesser armor types with ease.
- $150.
[/li][li]
Silvered Throwing Dagger

- Infused with silver, this dagger is the bane of lesser undead and werekin.
- Throwing knife, set.
Silver
- This damage does minor bonus damage to lesser undead and were-creatures.
- $50.

[/li][/ul]