Post by Neko on Jun 29, 2012 14:15:43 GMT -5
---
Name:
Neko Ravenhurst
---
Race:
Kashir
Age
18
Height:
5'
Weight:
115lbs
Hair:
Bright Purple
Eyes:
Purple
Skin:
Covered in light gray fur with darker gray markings
NotableFeatures:
Aside from the hair? None.
---
Physical Description:
She is slightly built with a shock of purple hair that has a tendency to fall in her slitted eyes if not tied back. Her body is covered in grey fur with darker gray markings like that of a snowleopard. She tends to dress in blacks or greys to better blend in with the shadows where she feels at home. She is fiercly loyal and protective of those she considers family or friends, often putting herself into danger to keep them safe.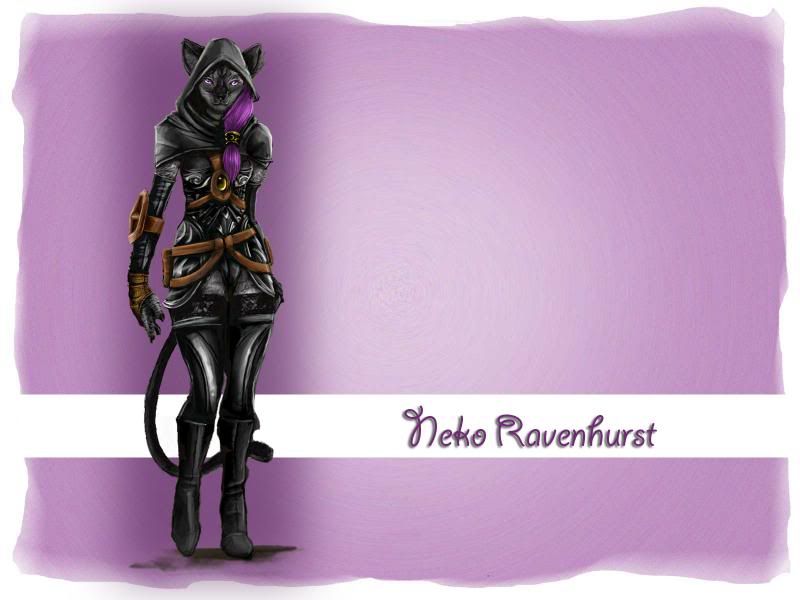 Unspent Acclaim:
3
---
Talents: ATHLETICS
---
Brawn:
0
Gymnastics:
9
Packmule:
0
Speed:
8
CREATIVITY
---
Tinkering:
1
Art:
0
Domestics:
0
Construction:
0
Performance:
0
COMMUNICATION
---
Persuasion:
2
Intimidation:
3
Seduction:
0
Intuition:
5
KNOWLEDGE
---
Culture:
2
Language:
1
Cartography:
2
Biodiversity:
2
Medicine:
1
Alchemy:
1
CUNNING
---
Trapworks:
4
Moving silently:
7
Concealment:
7
Lockpicking:
4
Sleight of Hand:
5
SURVIVAL
---
Resourcefulness:
3
Awareness:
6
Hunting & Tracking:
3
Endurance:
2
MAGIC
---
Evocation:
0
Shamanic:
0
Blessed:
0
Chaos:
3
Cantrips:
1
MELEE WEAPONS
---
Finesse:
7
Dueling:
5
Mauling:
0
Assault:
0
Exotic:
0
Polearms:
0
Unarmed:
5
RANGED WEAPONS
---
Thrown:
7
Projectile:
0
COMPLIMENTARY COMBAT:
---
Dual Wielding:
5
Shield Use:
0
Gold:
1242gp
Equipped Items:

Main Weapons:
A worn and much cared for set of Kunai
Reserve Weapon:
An equally worn and much cared for Ninjato
Helmet:
None
Body:
Light Leather Armor in black and greys, recently repaired.
Gloves: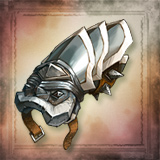 Hattori Gauntlets
These gauntlets show craftsmanship typical of Hanzo, in Ponchu, but also show some experimental elements unseen in other gloves. These once belonged to the assassin Hattori, who accomplished many incredible feats but was witty enough to not have them noted in the pages of history. These gloves protect the hand, which allows the user to deliver unarmed blows to armored foes. They also allow the hands to remain empty and able to wield weaponry. The rigid plating also addresses the issue of blocking an armed opponent when fighting unarmed and these gauntlets show scarring, indicative of them being employed in such a manner in the past.
- Exceptional gloves.
- 2 slots.
Belt:
Leather belt
Footwear:
None
Cloak:
A old ratty cloak borrowed from items left behindby her Uncle, Grayell.
Additional Item:
None
Accessory:
Neko's Vanguard Badge
All members of the Vanguard now wear a small, but identifying badge, pinned in a concealed location. This allows the Vanguard to operate in a clandestine manner and still show their allegiance when required. Neko's badge is more elaborate than others, indicating her station as the Warden within Wistvale. It has also been enchanted in a manner that specifically benefits her, though caution must be taken during use, lest she reveal her being a member to those not of the cause. The badge is made from precious metal and the eyes of the wolf upon it glow with a hint of fire, indicative of it being enchanted. There is none other like it, as this item is made to order and entirely unique.
- Masterwork accessory.
- By touching this badge, Neko is granted a voice. She can speak as any other, as well as whistle, an important means of communication among operatives.
- 1 slot.
Personal Item:
None
Items Carried:
10 Slots Capacity
Deck of Solomon: Knight Card
Believed to be the incarnations of Solomon's ancient guard, these warriors are unlike anything modern men have faced with monstrous strength and arcane equipment unmatched.
-Once per day, Summons a Knight to your aid, for five rounds, with the following stats:
Brawn: 5
Endurance: 5
Martial Prowess: 5
Single Handed Melee Weaponry: 5
Two-Handed Melee Weaponry: 5
-If the Knight falls in combat, it will revert to its card form and rest where it fell. Be sure to pick it back up!
-Card returns to owner if recalled or if the five rounds are up.
Items Stored:
A blue hood, on loan from her uncle. She only wears it in his presence, so far.
Vanguard Hood

- Made to meet very specific demands of the Vanguard organization and available only to their members. An 'under the table' item.
- Vanguard members only.
- Helm.
- This hood's enchantment completely conceals the user's face when up.
- The user may mentally communicate with any other wearer of this same item, in the same adventure.

Background:
Neko began life as a Hatchling in the original Menagerie. Like her kin, she hatched from an egg. Her particular breed being that of a catt. Her original form was that of a house cat with higher intelligence. She quickly became attached to her "Father", Alexander Ravenhurst as well as the rest of the lost souls that found their way to that waystation between dimensions. It was not long before her first evolution came and she changed into the form she has now. Somewhere between human and feline. Tho childlike in nature, she became very protective of her friends and "family" (now including her "uncles" Renquist and Roland and her "cousins" Tilik, a ratt breed of hatchling, and the other hatchlings that resided there.) and took up a study of martial arts to better be able to protect those around her. Using her small frame to its best advantage, she excelled in stealth and thievery as well as simple thrown weapons. Under the tutalage of her "Uncle Renny" she learned and studied and eventually gained the honor of bearing one of his prized swords in battle. Something she never took lightly. Her fondest memory of this time of her life being raiding the kitchens with Tilik and sneaking off to eat their spoils.
When her uncle left, she felt sadness at the loss of family, but understood that it was something that had to be done. In his absence, she continued her studies and worked closely with her father to maintain order in the wake of the departure. After a time, her longing for family grew and she approached her father with the idea of venturing off to look for her lost uncle. Using his magick, she made trips to several dimentions searching for some sign of him. As the failed attempts continued to rise, her father became less and less willing to provide assistance, believing it to now be a "fool's errand". Not wanting to give up, she used what little bit she had learned at the feet of her father to activate the portal once more without his knowledge. This was not without its cost, however, as due to the lack of knowledge and power she had to leave her prized possessions behind and has no way of getting back "home" now.
Now she has found herself in this strange land with an Uncle that may or may not be "her" uncle. She has done her best to try and fit in with the people she has found here and while still not sure if this version of Grayell is the one she knew, she has adopted him nonetheless and would do anything to keep him safe. Only time will tell if her mission was a success.