Neko
Jun 29, 2012 14:15:43 GMT -5
Post by Neko on Jun 29, 2012 14:15:43 GMT -5
---
Name:
Neko Ravenhurst
---
Race:
Kashir
Age
18
Height:
5'
Weight:
115lbs
Hair:
Bright Purple
Eyes:
Purple
Skin:
Covered in light gray fur with darker gray markings
NotableFeatures:
Aside from the hair? None.
---
Physical Description:
She is slightly built with a shock of purple hair that has a tendency to fall in her slitted eyes if not tied back. Her body is covered in grey fur with darker gray markings like that of a snowleopard. She tends to dress in blacks or greys to better blend in with the shadows where she feels at home. She is fiercly loyal and protective of those she considers family or friends, often putting herself into danger to keep them safe.
---
Talents: ATHLETICS
---
Brawn:
0
Gymnastics:
8
Packmule:
0
Speed:
7
CREATIVITY
---
Tinkering:
1
Art:
0
Domestics:
0
Construction:
0
Performance:
0
COMMUNICATION
---
Persuasion:
2
Intimidation:
3
Seduction:
0
Intuition:
5
KNOWLEDGE
---
Culture:
2
Language:
1
Cartography:
2
Biodiversity:
2
Medicine:
1
Alchemy:
1
CUNNING
---
Trapworks:
4
Moving silently:
6
Concealment:
6
Lockpicking:
4
Sleight of Hand:
5
SURVIVAL
---
Resourcefulness:
3
Awareness:
6
Hunting & Tracking:
3
Endurance:
2
MAGIC
---
Evocation:
0
Shamanic:
0
Blessed:
0
Chaos:
3
Cantrips:
1
MELEE WEAPONS
---
Finesse:
6
Dueling:
4
Mauling:
0
Assault:
0
Exotic:
0
Polearms:
0
Unarmed:
5
RANGED WEAPONS
---
Thrown:
6
Projectile:
0
COMPLIMENTARY COMBAT:
---
Dual Wielding:
5
Shield Use:
0
Gold:
1042gp
Equipped Items:

Main Weapons:
The Kopii

- The Kopii is usually wielded in pairs. These blades were forged from iron sand more commonly used to create slashing blades like the katana and wakizashi.
- One handed melee. (Medium)
Piercing
- This blade is extremely sharp and will punch through light armor as easily as cloth.
Throwing
- These blades can be thrown as projectiles but must be retrieved.
- $175.

Reserve Weapon:
Yuki No Onna Ninjato

- This assassin's blade of eastern origin is said to be possessed by the spirit of a vengeful woman turned terrible demon. The blade remains cold to the touch.
- One-handed melee. (Medium)
Frosted
- This blade is always covered in a fine layer of frost.
Permafrost
- One per day, the user may sheath the blade and trigger a 10 foot aura effect.
- All beings upon the ground within this radius will be frozen in place.
- This does not freeze any affected target entirely. Their feet cannot be moved however.
- This effect lasts one round only.
- Unique item, one only.
- $350.
Helmet:
Kunoichi Mask

- This powerful Eastern mask was the property of a long-gone female operative, her name a secret but her accomplishments well known.
- Helm, no defensive value.
Quick
- The user has a constant, minor bonus to their attack speed.
Precise
- The user has a constant, minor increase to their chance to hit when wielding singular or paired small blades.
- The user has a constant, minor increase to their accuracy with throwing knives and shuriken.
Backstab
- The user does minor bonus damage when backstabbing any target.
Tiring
- The user suffers a 1 point penalty to their Endurance talent.
- Unique item, one only.
- $650.
Body:
Light Leather Armor in black and greys
Gloves:

Bracers of Communication

- A pair of Bracers which were once worn by a great wizard and his significant other.
- These bracers permit telepathic communication between two separate characters in one adventure.
- The wearer may loan one bracer to another character. That character must equip that bracer.
- Unique item.
- $125.

Belt:
Leather belt
Footwear:
Oni Tabi

- Perhaps the best stealth footwear ever created, they have been utilized by every manner of Rogue and witnessed countless nefarious deeds.
- Boots, no defensive value.
Hushed
- The wearer's footsteps make no noise, whether walking or sprinting.
Treadless
- The user's footsteps leave no prints or evidence otherwise.
Grip
- The user can climb any surface with moderately improved ease.
Lightfoot
- Upon contacting any ground based trap, the user will not trigger it immediately; granting them an opportunity to disarm the trap before it can harm them.
- Unique item, one only.
- $375.
Additional Item: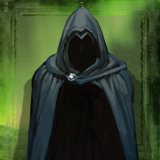 Shady Dealings

- These cowls are popular among thieves and with good reason.
- Additional Item.
- Adds a minimal bonus to any thieving related stealing in the dark or shadows.
- $50.

Accessory: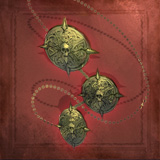 Detonating Pendant Necklace

- Each pendant on this necklace is in fact a tiny, clockwork bomb.
- Accessory.
Bomb
- May be used three times per adventure.
- The user may throw one of the bomb from about their neck.
- The bomb will detonate after 5 seconds.
- The bomb deals non elemental, concussive damage equal to a level 2 spell.
- $400.
Personal Item:
Stealth Sticks

- Accessory
- Disguised to look like decorative sticks worn to hold up one's hair.
- Decreases the chance for discovery in a search.
- Increases the chance for the user to pick a lock.
- Unique item.
- $75.

On Person Capacity:
4
Items Carried:Warrior's Toolkit.

- Necessary for upkeep of equipment.
- A whetstone
- Weapon oil.
- A soft, cotton cloth.
- A rasp.
- A small file.
- 10 feet of leather thong.
- Brass wire.
- A small hammer.
Survivor's Oilskin Sack

- A collection of tools hard to fabricate in the wild.
- A small camp knife.
- A waterproof fire kit containing flint, firesteel and packed cotton soaked in whale oil.
- A torch.
- A needle.
- 100 feet of tarred bank line.
- A small steel canteen. (32 oz)
Bomb Pouch.

- Does not include bombs, but keeps them tucked away and less likely to detonate accidentally.
- This pouch holds up to three bombs.
- $25.
Bomb pouch contains 3 of these...
Smoke Bomb!
- The simplest and most popular bomb in store!
- Bomb is thrown and detonates on impact.
- Causes an a suddenly spreading cloud of thick smoke.
- Area of effect is 6 feet.
- Dissipates quickly, no ill effect.
- $25.
Deck of Solomon: Knight Card
Believed to be the incarnations of Solomon's ancient guard, these warriors are unlike anything modern men have faced with monstrous strength and arcane equipment unmatched.
-Once per day, Summons a Knight to your aid, for five rounds, with the following stats:
Brawn: 5
Endurance: 5
Martial Prowess: 5
Single Handed Melee Weaponry: 5
Two-Handed Melee Weaponry: 5
-If the Knight falls in combat, it will revert to its card form and rest where it fell. Be sure to pick it back up!
-Card returns to owner if recalled or if the five rounds are up.
Items Stored:
A blue hood, on loan from her uncle. She only wears it in his presence, so far.
Vanguard Hood

- Made to meet very specific demands of the Vanguard organization and available only to their members. An 'under the table' item.
- Vanguard members only.
- Helm.
- This hood's enchantment completely conceals the user's face when up.
- The user may mentally communicate with any other wearer of this same item, in the same adventure.

A well worn and much loved set of Kunai.
An equally worn and much cared for Ninjato.
Foof Falls

- The Foof Fall line started out as comfortable slippers but recently moved into outdoor footwear.
- Boots, no defensive value.
Hushed
- The user's footstep's make no noise whether walking or sprinting.
- $100.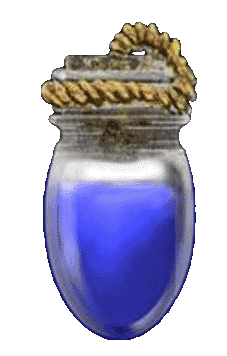 Rejuvenation Potion.

- Rejuvenation potions are made from a specific herbal brew and help reduce weariness. They taste terrible.
- Will invigorate the user for three rounds.
- This allows the user to temporarily counter the effects of physical and mental fatigue and/or stress.
- Such weariness will take full effect on the fourth round.
- Using another rejuvenation potion within 6 rounds will cause violent nausea.

Background:
Neko began life as a Hatchling in the original Menagerie. Like her kin, she hatched from an egg. Her particular breed being that of a catt. Her original form was that of a house cat with higher intelligence. She quickly became attached to her "Father", Alexander Ravenhurst as well as the rest of the lost souls that found their way to that waystation between dimensions. It was not long before her first evolution came and she changed into the form she has now. Somewhere between human and feline. Tho childlike in nature, she became very protective of her friends and "family" (now including her "uncles" Renquist and Roland and her "cousins" Tilik, a ratt breed of hatchling, and the other hatchlings that resided there.) and took up a study of martial arts to better be able to protect those around her. Using her small frame to its best advantage, she excelled in stealth and thievery as well as simple thrown weapons. Under the tutalage of her "Uncle Renny" she learned and studied and eventually gained the honor of bearing one of his prized swords in battle. Something she never took lightly. Her fondest memory of this time of her life being raiding the kitchens with Tilik and sneaking off to eat their spoils.
When her uncle left, she felt sadness at the loss of family, but understood that it was something that had to be done. In his absence, she continued her studies and worked closely with her father to maintain order in the wake of the departure. After a time, her longing for family grew and she approached her father with the idea of venturing off to look for her lost uncle. Using his magick, she made trips to several dimentions searching for some sign of him. As the failed attempts continued to rise, her father became less and less willing to provide assistance, believing it to now be a "fool's errand". Not wanting to give up, she used what little bit she had learned at the feet of her father to activate the portal once more without his knowledge. This was not without its cost, however, as due to the lack of knowledge and power she had to leave her prized possessions behind and has no way of getting back "home" now.
Now she has found herself in this strange land with an Uncle that may or may not be "her" uncle. She has done her best to try and fit in with the people she has found here and while still not sure if this version of Grayell is the one she knew, she has adopted him nonetheless and would do anything to keep him safe. Only time will tell if her mission was a success.[/color]